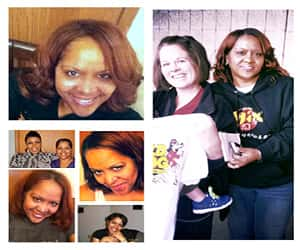 The only Brandi you'll ever need in your Midday!
1.) Where are you from? "I was born in Alexandria, Louisiana…grew up in Marksville, Louisiana."
2.) What were your aspirations as a child? " I always wanted to be in some type of entertainment, but I just didn't know what arena. Plus, I was always interested in going to the moon. When I entered college I majored in Aerospace Technology.
3.) Where was your first job? " Marksville, Louisiana-KAPB-The genre of music was country, rock, blues and soul music in one package. It was put together like gumbo/jambalaya. It sounds like a bit much, but it worked."
4.) Who have you met that's made a big impression? "I had the opportunity of interviewing and meeting Mrs. Coretta Scott-King. Her poise, elegance, and calm demeanor left me with a great impression that I will take with me till infinity."
5.) Favorite food? "Cajun food! It's got to be spicy! Gumbo, shrimp etoufee, jambalaya, or anything I cook has to have cajun spicy seasoning in it."
6.) Favorite artists? "Luther Vandross, Anita Baker, Tyrese, Eric Benet', Angie Stone, Johnny Gill, New Edition, Joe, Bel Biv Devoe, Whitney Houston. But there are so many that I love but those are my top favorites for right now.
7.) Pet peeves? " Folks talking with food in there mouth, chewing gum while talking, talking all over me."
8.) Words to live by. "If you can't change the people around you, change the people around you."
9.) Hobbies "Reading, traveling, tennis, outdoor activity for the most part."
10.) If you had opportunity to be in any other profession what would it be? "That's a great question and the answer is……..It would be something in entertainment."
Check out Brandi Browne's "Thought of the Day"
Monday- "The number 1 skill in life is not giving up."
Tuesday- "Old acquaintances reintroduced in a new season often expect an old you. Some may even try to project the old you onto the true you. Never let that happen. Those who are stuck in the past should be left there."
Wednesday- "It's not what you say out of your mouth that determines your life, it's what you whisper to yourself that has the most power."
Thursday- "Believe Big, and pray boldly."