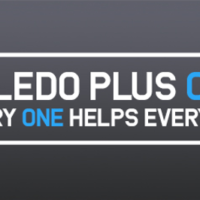 Toledo Plus One: A Glass Roots Movement to Support Local Frontline Heroes and Restaurants
Join us in taking a "plus one" to lunch or dinner. But not just any plus one – a local front-line healthcare or first responder hero.
Donations are now being accepted through a fund organized by Greater Toledo Community Foundation. Donations will provide meals to Northwest Ohio's first responders, including hospital workers, firefighters, and police officers while supporting some of The Glass City's most beloved local restaurants.
Current participating restaurants: Mancy's Steakhouse, Mancy's Italian, Mancy's Bluewater Grille, Shorty's, Stubborn Brother Pizza, Souk Mediterranean, The Beirut, Ciao!, The Real Seafood Co., Zia's, and The Chop House. More restaurants may be added depending on the success of this initiative.
Meal delivery to be provided by Yark Automotive Group.
Every dollar makes a difference. We all love Toledo. Let's prove what we can do together. Donations can be made at https://toledoplusone.com/
For more information on Toledo Plus One, contact anniebaymiller@gmail.com or visit toledoplusone.com